Products
Blue Flame Gas, Co., provides a full range of appliances, hot water heaters, boilers, and more.

Rinnai's US product line has grown from spa heaters to an extensive product line that today includes tankless water heaters, direct vent wall furnaces, fireplaces, hydronic air handlers, portable cook tops and commercial grade rice cookers.

Empire offers a full line of direct-vent, vent-free, and B-vent heaters in sizes to warm almost any room. Nearly all of Empire's heaters are made in the company's two Belleville facilities.

With a long and successful history dating back to 1881, Bradford White today is one of the most technologically advanced manufacturers of water heating, space heating, combination heating and water storage products in the world.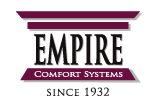 From early floor furnaces (a forerunner to central heating systems) to console heaters to wall furnaces, to gas fireplaces and log sets, to the super-efficient Mantis fireplace system, Empire has adapted to market requirements.